How do you find your full bank account details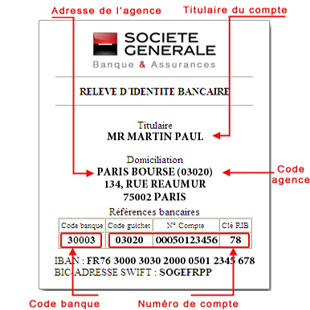 They are given to you by your relationship manager when you open your account.
You will also find them in your cheque book and on some bank statements or online by logging into your espace client (personal Internetbaking area).
It lists:
the national ID number for your account,
the International Bank Account Number (IBAN) for your account,
the Bank Identifier Code (BIC, an 8-character code; Societe Generale's code is SOGEFRPP). Your account number does not change if you transfer the account to another Societe Generale branch. This saves you the trouble of going through a lot of tedious administrative formalities.
Pay into your new account
Begin to pay your income into this account immediately by providing your new bank account details to your employer and depositing your cash and cheques into it using the paying-in slips available in branches or in your cheque book, or on request from your Relationship Manager.
Payments in France

Cheques
are a widely accepted form of payment. You are usually asked to provide an ID card when paying with a cheque.The amount of the cheque must be written in French. Also be careful how you write out the numbers. In France, a comma is used as a separator between the euros and the cents.
Warning!
In France, it is against the law to write a cheque on which there is insufficient funding in the account. People who do so run the risk of being prohibited from writing cheques.

Bank cards
are the most used form of payment in France. Through the Visa, MasterCard or American Express networks, you can use your card to:
withdraw cash from ATMs 24/7: the amount withdrawn is debited from your account on a daily basis,
make purchases in euros and other currencies, in stores and online, with the option of immediate or deferred debit,
enjoy high-level assistance and insurance services
In France, almost all transactions require you to enter your card's strictly confidential pin code. Societe Generale is the only French bank that allows its customers to choose their own pin number.
International transfers
To transfer funds abroad, you have to give the beneficiary's IBAN and BIC to the bank.
There are two types of transfers:
Euro Transfers: transfers exclusively in euros for amounts less than or equal to EUR 50,000 within the European Union, including the precise bank details of the beneficiaries (i.e. BIC and IBAN).
International Transfers: any transfers within or to countries outside the European Union (other currencies, no IBAN, etc.)
International transfer requests may be submitted by fax as long as you have signed a request at your Branch.
Your regular payments
Choose simple, beneficial solutions: direct debit, ideal for regular bills, with no risk of forgetting and no charges: transfers, in branches or at: particuliers.societegenerale.fr, from your account to any other account, in France and SEPA zone countries(1).
(1) Germany, Austria, Belgium, Bulgaria, Cyprus, Denmark, Spain, Estonia, Finland, France, Greece, Hungary, Ireland, Iceland, Italy, Latvia, Liechtenstein, Lithuania, Luxembourg, Malta, Norway, Netherlands, Poland, Portugal, Czech Republic, Romania, United Kingdom, Switzerland, Slovakia, Slovenia, Sweden. SEPA also includes the four French overseas departments and regions: Guadeloupe, French Guiana, Reunion and Martinique.