Societe Generale provides non-French residents with a branch right in the heart of Paris that has been specialized for almost 50 years in catering to the specific needs of International Private Customers.


Whether you regularly travel to France on business or you own your own pied-à-terre here, this branch offers a team of experienced specialists fluent in several languages capable of meeting your expectations.


Societe Generale, whose business philosophy is founded on a personal approach to the needs of each and every one of its Customers, has developed a wide range of financial products and services tailored to the specific requirements of international private Customers. You enjoy the best of our Private Banking services,in wealth management and transmission.


The ACPI (International private clientele branch) welcomes you from Monday to Friday.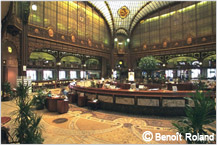 29, boulevard Haussmann
75009 Paris
Tel: +33 (0) 1 53 30 87 10
Fax: +33 (0) 1 53 30 87 30